TXR Tingle X-Ray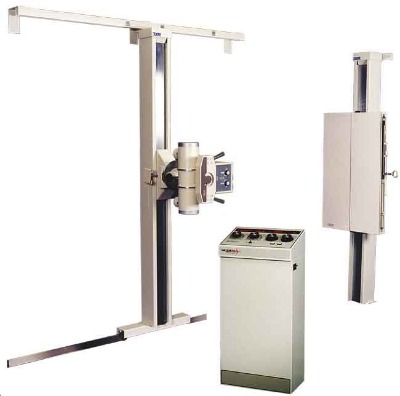 Heavy Duty Construction
Full Spine Views
Space and Energy Efficient

125 kVp Power Touch Control positioning
Powder Coat Paint

400 mA Electromagnetic Brakes
Cost Effective
Adjustable Carriages

MODEL NO DESCRIPTION
TXR 325D Standard Frequency 400 mA 125 kVp X-ray Control with kVp, mA, and mAs Digital readouts. Provided with SCR's, basic tube limit protection and self-diagnostic program.
X-Ray Tube Toshiba 1.0 - 2.0 mm fractional focus tube E7239 (Specify Right or Left Hand Load)
13-SM-84 Tubestand with magnetic locks, 6' floor rail and Analog Positioning Control
24-15500 Proflex 15' High Tension cables (pair)
70-63000-1 Eureka Linear Certified Manual Collimator with Swivel Mount
13-BF-7 36E Bucky Stand Non tilt with magnetic locks
GC-36-LD 14" x 36" Light Duty Gridcabinet


C-JT Standard Duty Cassette Tray


CJ-AMC Panel Front


811031537 8:1 103 Stationary Filter Grid, Focused 40" – 72"